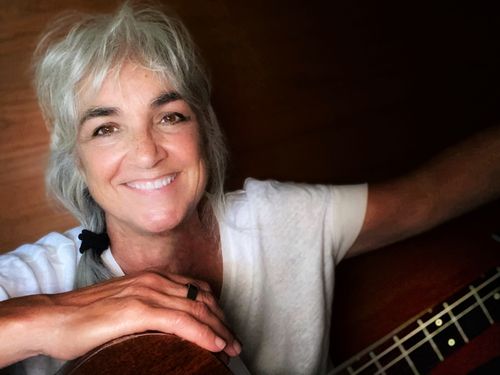 ABOUT
Dad played a mandolin, mom would sing in the kitchen
or in the garage if we wanted to watch a thunderstorm.
The seed was planted.
I've played guitar all my life, never hitting pause.
It remains a cherished exploration.
I don't gig.
I don't do crowds.
But I'll grab an instrument and play
in an intimate setting with friends.
I have a recording studio in my home.
And I also have the box of my cassette music recordings
dating back to my childhood.
At some point my lifelong career in the ad business sparked
an education at Berklee College of Music.
Upon that mid-life intersection I altered course to become 
a commercial songwriter and composer
daughter of my dad who played mandolin
and mom who would sing.
And when that stint came to its
perfect-pitch outro, I began having
more questions than answers about my music.
And more time to watch thunderstorms.
No surprise.
More seeds.
STATS 
INSTRUMENTS:
Multi-instrumentalist,
although guitar, tenor guitar, mandolin, banjo (strings and frets) are my main instruments
 
RECORDING STUDIO:
Protools 
MUSIC-SPECIFIC EDUCATION:
Berklee College of Music 
University of New Hampshire's Violin Craftsmanship Institute 
Decades of private lessons and workshops

MUSIC KUDOS:
Emmy Awards 
Billboard Music Awards (World Songwriting Competition)
Telly Awards
Davey Awards
Others
[Music placements on Networks including ABC, NBC, CBS, DISCOVERY, USA, NAT GEO, Hallmark, Weather Channel]
CURRENT GENRE:
Contemporary Folk, Acoustic,
often with Celtic or Bluegrass nuance
CURRENT STYLE:
Instrumental or with vocals; mid-tempo;
reduced production with crispy acoustic attitude 
LYRICAL CONTENT:
A deep essay for another time,
but my past stories took inspiration from volunteer projects (homelessness, autism, developmentally-challenged, more than a decade as a big sister for Big Brothers/Big Sisters) and general observations of peoples' personal challenges ("Life Gets A Chance" and "Closed the Door" projects).

Current stories take cues from observations of all environments. Many are told without lyric content - such as the "Never Ends" project having taken vibes directly from the loons and owls I would hear nightly while sitting by the water. In this case, I was inspired to interpret their expressions through the warm tonal breath of cedar, mahogany, bamboo flutes and guitar, and performed with organic meter.
Really everything continues to be explored. 
RECENT BOOK:
The Creative Act, by Rick Ruben